The other day David mentioned that he had been craving chocolate rugelach. I hadn't had rugelach in ages and I had never made them myself, but since I was home and had all of the ingredients I needed, I decided to give it a whirl.
Rugelach originated in the Jewish communities of Poland, so it makes sense that the pastries made their way into nearby Hungary (and all around the world). Most people I know just call them rugelach but I've seen some Hungarians call them csokis tekercs (chocolate rolls) or csokis kiflik (chocolate crescents). Our family associates kifli with a crescent shaped bread roll, so we just call them rugelach.  
Traditionally the pastry is made with a yeasted dough that requires a lot of kneading and rising, but I wanted a quick recipe, so I made one that uses cream cheese in the dough. The finished product is light, crisp and totally delicious.
David likes to have them with his morning coffee, and I like to have them with afternoon tea. Our children pop one in their mouth every time they walk by the kitchen. The chocolate was such a hit that I've been thinking of all of the other things I could fill them with. Maybe next time I'll try Nutella, or jam, or even a nut filling. If you decide to try them, I hope you like them as much as we do!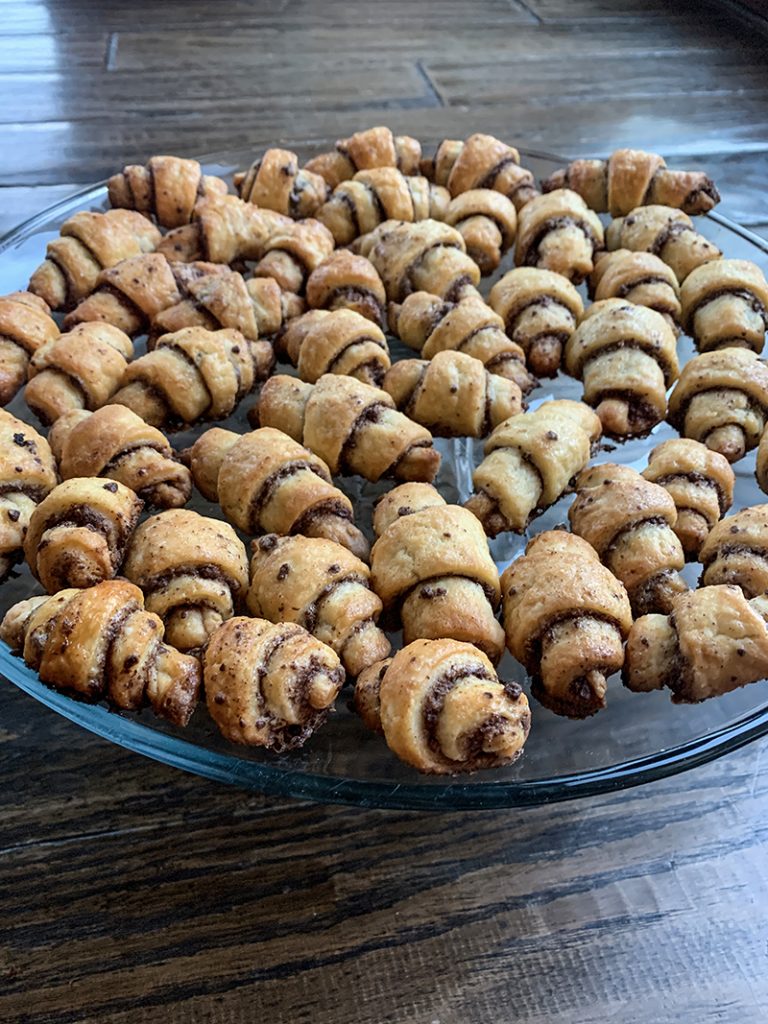 Chocolate Rugelach
Makes 64 Small Pastries
For the Dough:
2 sticks (8 ounces) unsalted butter, at room temperature
1 (8 ounce) block of cream cheese, at room temperature
¼ cup sugar
1 teaspoon vanilla
2 cups all-purpose flour
For the filling:
4 ounces semi-sweet chocolate chips (a heaping ½ cup)
1 Tablespoon cocoa
1 Tablespoon cinnamon
½ cup sugar
For Assembly:
For the Topping:
Directions:
In a mixing bowl, cream together the butter, cream cheese and sugar until light. Add the vanilla and mix until incorporated.
Add the flour and mix until just combined.
Refrigerated dough for at least an hour.
Preheat oven to 350° F and line four cookie sheets with parchment paper.
Make the filling by pulverizing chocolate chips in a food processor until they start to look like sand.
In a small bowl, combine the pulverized chocolate, cocoa, cinnamon and sugar.
Melt the butter and set aside.
Divide dough into four balls.
To assemble, on a floured surface, roll each ball out into a circle about that is about 1/8 of an inch thick.
Brush the melted butter over each of the four circles and spread each circle with a quarter of the filling.
Using a pizza cutter or sharp knife, cut each of the four the dough circles into 16 wedges (as if you were cutting a pizza or a pie). You should have 64 pieces total.
Starting at the wide end of each wedge, roll the dough toward the tip and place each roll tip side down on the parchment. I bake 16 pastries per cookie sheet in four rows of four.
Mix together the egg and ¼ cup sugar for the topping.
Brush each pastry with a small amount of the topping so they look shiny.
Bake at 350° F for about 20-22 minutes, or until golden brown.
Allow to cool completely before serving (because if you try to eat them when they are hot, the filling will burn your tongue. Trust me on this one).