Last Thursday David and I took the boys to see Guns N' Roses in concert. It was our first big concert since the start of the pandemic, and since it was in LA County masks were required when not eating or drinking. For the most part, people complied and didn't mind the masks if it meant they got to finally see live music again. Judging by my eldest's Instagram stories, it was the best concert of his life (I came to this conclusion because he literally posted an Instagram story with the words "Best Concert of My Life" written across the top). Our younger son was less enthusiastic, but he also had beer spilled on his shoulder early on in the evening (by a stranger, no less), so I totally sympathize with his lack of enthusiasm.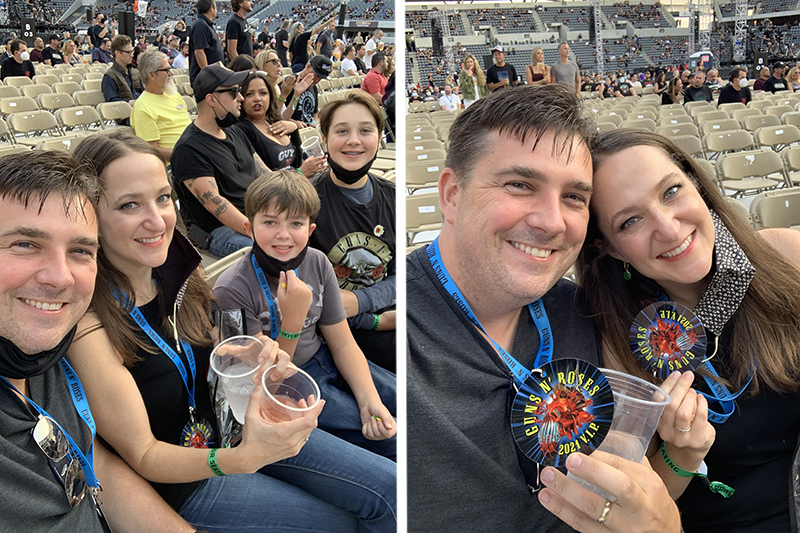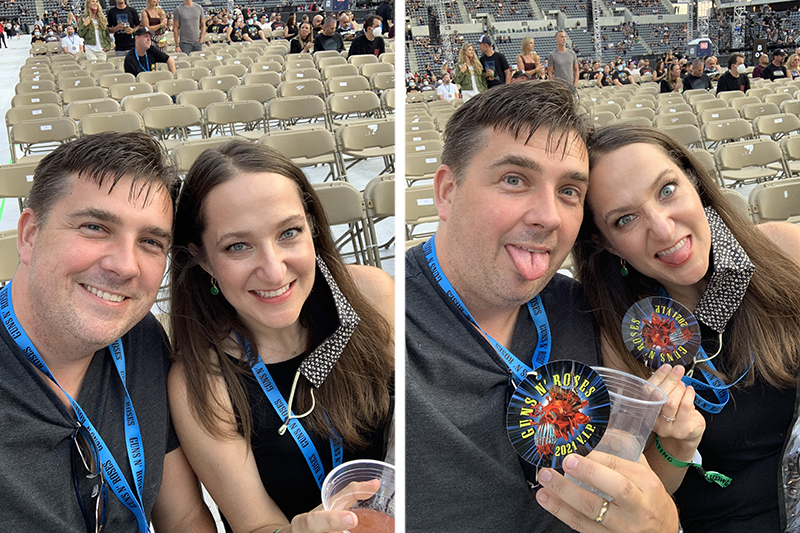 I have wanted to see Guns N' Roses in concert for as long as I can remember, but they were broken up throughout all of my high school and college years, and when they finally reunited and came to Los Angeles, I was heavily pregnant and not willing to risk going into labor in the middle of a concert. David, however, did not share my concern so he went to see them without me and had a great time. At the time I was pretty disappointed because I knew that there was a good chance that I wouldn't ever have the opportunity to see them live again. In the past, Axl and Slash have been notoriously hot and cold with each other, so there was always that feeling in the back of your mind that their reunion could be short lived. Thankfully, that wasn't the case and I got my chance to see them last week. Yay!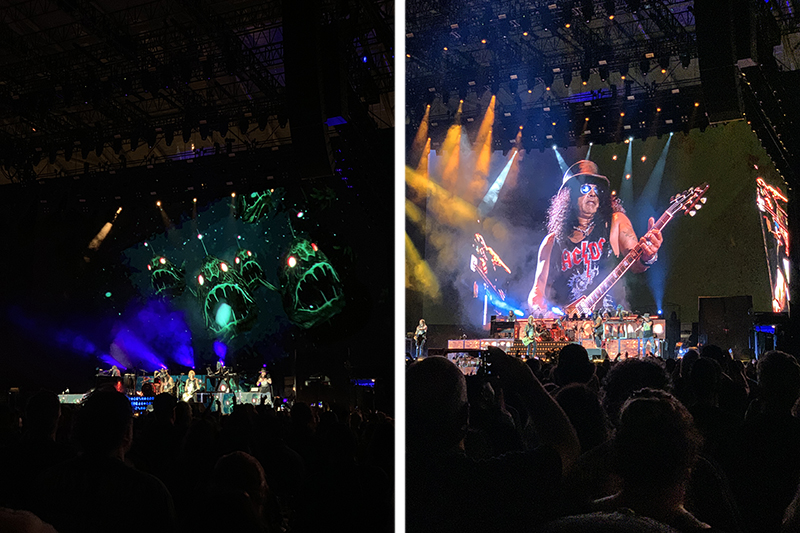 What a show. I don't know how else to describe it other than to say it was phenomenal. The sound quality, the production value, the showmanship, it was all on point. Our seats were on the floor just a few rows back from the pit, which has always been one of my favorite places to watch live music. I know people love the excitement of the pit, but I just can't handle it. We were in the pit at a Killers concert years ago and that is where I had my first ever panic attack. I was so terrified I couldn't speak and I honestly thought I was dying. I've always had anxiety but this was a whole other level. I don't do well with crowds anyway, and the pit is basically just one giant crowd of people smashing up against you. Just thinking about it gives me the heebie-jeebies, but I digress.
Anyway, back to Guns N' Roses. The concert was held at Banc of California Stadium, which is the new(ish) stadium where LAFC plays their matches. We have been going to see the LA Galaxy play at Dignity Health Sports Park (formerly known as Home Depot Center and then Stub Hub Center) for years and, I guess since Banc of California Stadium is newer, I expected it to be better than it was. It wasn't bad. It is a nice stadium; I just expected more, especially after they made such a big deal about it costing $350 million to build. For that much, they should have done a better job designing (and installing lighting in) the women's bathrooms.
The night kicked off with a fantastic opening act: Mammoth WVH, Wolfgang Van Halen's band; they were fantastic. Just a fun little fact, according to the band's website, Mammoth was Van Halen's original band name before they changed their name to Van Halen so the name Mammoth WVH is a tribute to Wolfgang's late father Eddie Van Halen. How sweet is that? Wolfgang is a great showman, just like his dad and I'm so glad we got to see them perform. The Guns N' Roses setlist was all I could have wanted out of a G'N'R concert. We got to hear most of our favorite songs and they closed out the night with "Paradise City", which is our younger son's favorite Guns N' Roses song and made him slightly less angry about the beer spilling incident. I loved watching the entire band perform. I can't believe everything Slash can do with a guitar. He is amazing to watch. Axl has always been an incredible showman when he was in the mood to be, and the night of our concert he was in top form. I have always had a soft spot for bassist Duff McKagan and was so excited when we got to hear him sing a cover of the Stooges' "I Wanna be Your Dog" while Axl was off stage for one of his (many) shirt changes.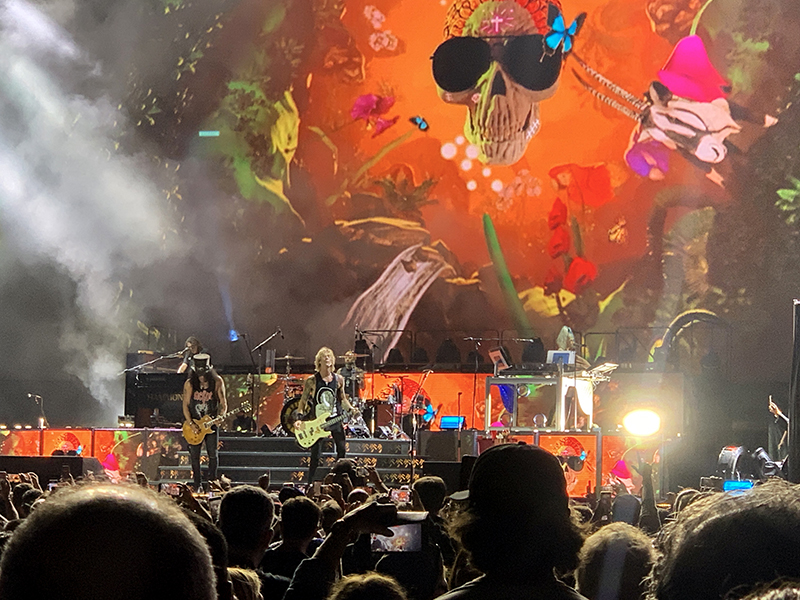 One of the highlights of the evening was when our oldest spotted 11-year-old drumming sensation Nandi Bushell a few rows behind us in the audience and wanted to meet her. She was super sweet and they posed for a picture together. He was so excited to meet someone he considers to be an amazing musician and I was excited that my high schooler doesn't let age or gender affect how he feels about someone's musical talents.